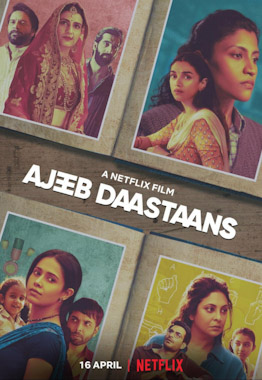 Cast: Konkona Sen Sharma, Aditi Rao Hydari, Nushrat Bharucha, Fatima Sana Shaikh, Jaideep Ahlawat, Shefali Shah, Manav Kaul, Abhishek Banerjee, Tota Roy Chowdhury
Director: Neeraj Ghaywan, Kayoze Irani, Shashank Khaitan, Raj Mehta
Streaming on Netflix
From the production house of Karan Johar's Dharmatic Entertainment, a new anthology of four short films has been streaming on the OTT platform, Netflix. Ajeeb Daastaans, strange stories in literal meaning when translated from Hindi, portrays turbulent love that does not always blossom in a rose by the street side bush. Politics, sexuality, betrayal, struggle, remorse and dystopia are integral ingredients to our troubled times and Ajeeb Dastaans is a reflective journey of some of those experiences.
Directors Shashank Khaitaan, Raj Mehta, Neeraj Ghaywan and Kayoze Irani create four stories, Majnu, Khilauna, Geeli Pucchi and Ankahi respectively and tries try hands at intricate nuanced storytelling. Needless to say, life's becoming is at the helm of all these stories.
The theme of Ajeeb Daastaans runs a cohesive narrative to attempt an earnest portrayal of bizarre tales centering around five Indian women hailing from small towns. Despite varied background, all of them showcase the same helplessness while battling unflinching social stigma. Shock and surprise are interwoven in Ajeeb Daastaans portrayal of these women's lives. A small town bride longing to satiate her sexual need while the husband is nonchalant; a maid servant striving hard to make ends meet in a hungry world which seems disoriented from her lived reality; two women employees of a factory walking the complex tightrope between queer love and career aspiration and riddling politics to become the victor; an urban woman torn between a sickly daughter and the prospect of a new romance: Ajeeb Dastaans, strange tales, is not exactly a light watch, but albeit an entertaining one and sometimes very relatable.
Majnu
To be honest, I did not like the first two stories. I felt they were hurriedly penned and the emphasis was misplaced. Manju tells the story of a woman who gets rejected by the husband on the first night of wedding. Her husband refused to touch her, yet fried (or was it boiling) the genitals of men who came close to his wife. She cheated and he avenged in a cyclic order until a lover boy appeared with a motif that seemed to be another revenge plotted since childhood days. Many compared Majnu to be of the similar ilk of Mirjapur. I agree the set up looked similar but the stoies differ in great extent. At best, Majnu is a lukewarm drama of desire.
Khilauna
Abhishek Banerjee and Nusrat Barucha played a second fiddle while the child actor Inayat Verma delivered a surprise performance in the story Khilauna.
"Let him ogle at me for a couple of hours while I clean, as long as I get electricity back in my home." says Meenal (Nushrratt Bharuccha) who works at a upper class community to ensure a life of comfort for her sister. But the baby sister gets drifted from the stark reality and how! The story had the potential to become a classic thriller but the unnecessary emphasis on Meenal's waistline sexualized her more than required. I doubt if audience will get a chance to relate to Meenal's plight.
Geeli Puchi
In the penultimate story of Geeli Pucchi (wet kiss), Bharti Mandal (Konkona Sen Sharma) and Priya Sharma (Aditi Rao Hydari delivering her career best performance so far) portrays how an oppressed woman can turn into an oppressor. This is the best short film of the anthology and demands your undivided attention.
Watch this from Konkona's gritty performance. Watch this for Aditi Rao Hydari's dreamy eyes. Watch Geeli Puchi to witness the everyday plight of a blue collar working class woman at a small town factory.
Konkona Sen Sharma stanped her authority on the screen and how! A dalit woman, she is marginalized more, because she embraces her sexuality, which is homogeneous. A stray waits her home, the lonely home which soon becomes a breeding ground of another woman who tries hard to adjust. She struggles to get a raise, and is not even considered a woman in the production line in a factory that runs sans a female friendly washroom.
She meets Priya, who spends sleepless nights on a mat shared with her in laws evading a horny husband who finally takes her to the washroom to consummate marriage. A baby comes in the picture in an desperate attempt to bring normalcy as seen, felt and preached in Indian society. Normalcy remains elusive though! If you are really pressed for time for a full length feature film, I urge you to set aside 45 minutes for the marvelous short film named Geeli Pucchi from the anthology of Ajeeb Dastaans.
Ankahi
"I think the photographs you click have a little sadness in them."
"What people see in my photographs, it says less about me and more about them."
A scintillating Shefali Shah and Manav Kaul act in the last film, Ankahi (the unspoken). Tota Roychowdhuri makes a guest appearance and yet another times bedazzles the screen!
An upper class urban woman Natasha (Shefali Shah) struggles to communicate effectively to the husband who stays glued to work and laptop all day every day. Her daughter is on the verge of loosing her hearing ability and she extends support and comfort and gets exhausted in her soul. In her quest of respite, she meets a man, a deaf photographer named Kabir (Manav Kaul), at an exhibition. They become friends and love sparkled one night and the morning after brought devastation. Not all stories unfold in the same maner as Before Sunrise!
In the process of filming, the directors do a decent job in a tight timeframe despite an absence of a vivid portrayal of the contemporary societal structure.
The characters show a certain amount of resentment in order to cope with the prevalent social order, albeit regressive. They seek an escape from everyday mundane but ultimately make a tryst with their destiny and the consequences unfold as surprise. It seemed almost like reading and living the moments of a short story, leaving you longing for more!
I loved watching Ajeeb Daastaans. Except for a few moments of awkward WTF was that moments (yes, the pressure cooker whistle and no I wont give any more spoiler), I felt it was a bold attempt to highlight caste and class divide of India, prolific portrayal of a homosexual woman whose heart is steadfast on being herself and defying the world, desperation of a loveless life and the riddles of it. Brilliant cinematographic style brings out the best of deceptive surrealism in brisk pace of the film. I loved the fact, Ajeeb Daastaans refrained from the path of being preachy in portrayal, although it had ample opportunity. Instead, it was streamed everyday pictures of our times, indeed troubled, deeply rooted in reality.
Needless to say Ajeeb Daastaans is an coming of age Hindi film, an upgrade to the previous experimentative anthologies we have already seen in Lust Stories (2018), Ghost Stories (2020), Bombay Talkies etc. Although, my first and finest experience of watching an anthology remains Tin Kanya by a certain Mr. Ray. Keep that on the top of your watch list, if you are a new entrant to the world of Indian movies!